Charlie Sheen May Be Wearing a Toupee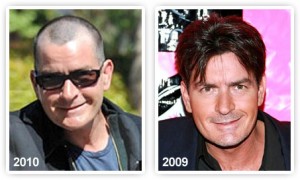 Since the Hollywood actor has been making the rounds on one of the oddest PR blitz campaigns America has ever seen, many readers are wondering if Mr. Sheen is losing more than his hit Two and a Half Men salary. Mr. Sheen's hair seems a little bit different every interview and some have speculated that the actor is sporting one of the finest toupee since William Shatner.
What ever your thoughts of Mr. Sheen he has not held back on often bizarre interviews and has promised to continue.
Interviews including Charlie Sheen on the Today Show have shown an interesting series of events and comments from Mr. Sheen. In the Today show interview Rossen asked Sheen what he thinks when he watches himself talk about warlocks and having tiger's blood.
"I'm entertained as hell," Sheen said. "I'm not saying that it's not true. But I'm laughing. And I'm laughing with the goddesses, I'm laughing with my friends. And everybody's like, 'Well, did they expect it to be like a normal interview? Did they expect it to be just conventional and boring and whatever else?' No man, we're shakin' the tree. we're shakin' all the trees."
So What About Charlie's Hair Loss?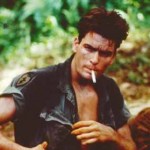 We have contacted several of our hair transplant surgeons to ask their thought on photos Zenagen has obtained of Mr. Sheen's changing hairline. The hair loss expert opinions varied with several of the hair loss experts suggesting that his bouncy hair is the result of a modern male toupee style.
Others suggest that hair loss surgery grafts are likely. Too bad Zenagen was not available back in the day or Mr. Sheen. The majority of professionals suggested that he is indeed sporting a toupee of sorts. So there you have it and if you want to check out more celebrity hair loss profiles checkout more of the Zenagen blog.
Click here to learn more about the Zenagen hair loss treatment.
Click here to return to the Zenagen hair loss blog.