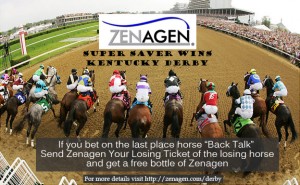 The 136th Kentucky Derby was a slower race due to the sloppy track conditions of Churchill Downs. Over 150,000 people were in attendance to see the race and find out the results. So, who won the 2010 Kentucky Derby? Some horse named Super Saver, but that doesn't mean much to us. No one likes to lose and that is why we are offering way to make anyone who wagered on the losing horse "Back Talk" to win the 2010 Kentucky Derby a special gift, a free bottle of Zenagen. Who said losers can't win. Visit www.zenagen.com for more information and good luck next year.
The complete list of 2010 Kentucky Derby results:
1st Super Saver
2nd Ice Box
3rd Paddy O Prado
4th Make Music For Me
5th Nobles Promise
6th Lookin At Lucky
7th Dublin
8th Simply Victor
9th Mission Impazible
10th Devil May Care (filly)
11th American Lion
12th Jackson Bend
13th Discreetly Mine
14th Dean's Kitten
15th Conveyance
16th Homeboykris
17th Sidneys Candy
18th Line of David
19th Awesome Act
20th Backtalk (Get Free Zenagen For Losing Bet Ticket For Win)
Visit Zenagen Hair Loss Shampoo Website For More Details.
For Derby Contest Details Visit Zenagen.com/derby