Is Tiger Woods Losing His Hair?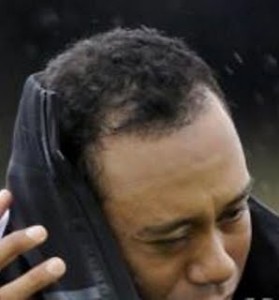 The  world's most dominate golfer in the last 10 years has had a rough 2010. The controversal golfer finished his 2010 season without a single win in a tournament. Many sports pundits predicted it would be tough for Mr. Woods to focus and compete at the highest levels required to win major golf tournaments given the tabloid and marital problems and issues that have surfaced over the last 13 months.
In Mr. Wood's last chance at a tournament win, he participated in the 2010 Chevron World Classic  Golf Tournament which supports the Tiger Woods Foundation. Tiger had control of the entire tournament going into the final day on Sunday. US open champion and Ryder Cup hero Graeme McDowell was trailing Tiger and the two played a very exciting 18 holes to end up with a tie, due to some very skilled putting and chipping shots by McDowell. After 18 the two players were tied and entered into a playoff which Graeme McDowell won.
Mr. Woods has been showing signs of stress lately and many people have noticed that he seems to be experiencing rapid hair loss, especially in the last year. Mr. Woods recent signs of balding may be a coincidence, but there is a strong correlation between extreme stress levels and rapid short term hair loss. With everything Mr. Woods has been going through in the last year or so his receding hair line and hair loss is probably the least of his worries, but the folks at Zenagen always care. Mr. Woods we hope that your 2011 and on is better than 2010 and that you relax and recoup over the winter break to come back to golf as the dominate golfer you have been in the past.
Click here to go to the hair loss shampoo Zenagen homepage
Click here to return to the Zenagen hair loss blog