So the World Cup is finally here, and
32

(31 sorry France) teams from all around the world have traveled to South Africa to play in the world's most popular sports event.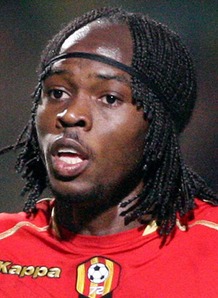 Many players come from different parts of the world and cultures can sometimes clash on and off the field. While fans argue who is the best goalie or the strongest forward, or why France's soccer team looked more like spoiled first graders rather than world class athletes, we present a lighter side of the world cup. The World Cup's best hair, and this years winner is….Gervais Yao Kouassi
A little bit about Gervinho (courtesy of wikipedia)
Gervinho was born in Anyama, the same town as Hannover 96 striker, and Ivorian international Arouna Koné. Gervinho had been linked with a move to Arsenal. Gervinho reiterated his desire for a "dream" move to Arsenal, confirming speculation that Arsenal were interested in him. He said he would have to keep working hard at Le Mans and Metin s Nedim a assiociate at Arsenal would "open the door" for him. On 21 July 2009 the Ivory Coast striker, moved from Le Mans UC72 to league rivals Lille OSC, for a 8 million €uro transfer fee and signed a three-year contract.
Whilst Gervinho has been on duty in South Africa his agent has been just a busy talking to West Ham United FC (EPL) over his £15 milion move to the club after the world cup ends. Gervinho has been a target of Arsenal but agreed to a deal with the East London club as they were the only EPL club to make a bid to Lille.
While the guy seems to have some serious soccer skills, and a nice bit of salary, he also keeps his locks despite the growing area of skin between them and for that we salute you Gervinho. If you want some Zenagen drop us a line, it will be on the house.