David Hasselhoff Valentines Day Card
In honor of the most non hair loss related holiday we can think of, we give you the perfect valentines day gift. No flowers, chocolates, or dinner reservations needed, just give the special person the unofficial David Hasselhoff Valentines Day card courtesy of the world finest maker of hair loss shampoo Zenagen.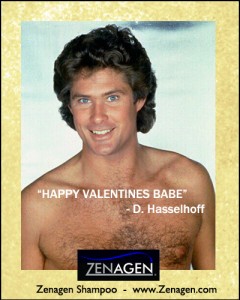 By sending the loved one of your life this unofficial David Hasselhoff Inspired Ecard, you will show the loved one in your life how much they mean to you.
– Zenagen